Members of our group are involved in many outreach activities.
Board game Virusalarm in Bleibhausen (Virus Alert in Stayhompton)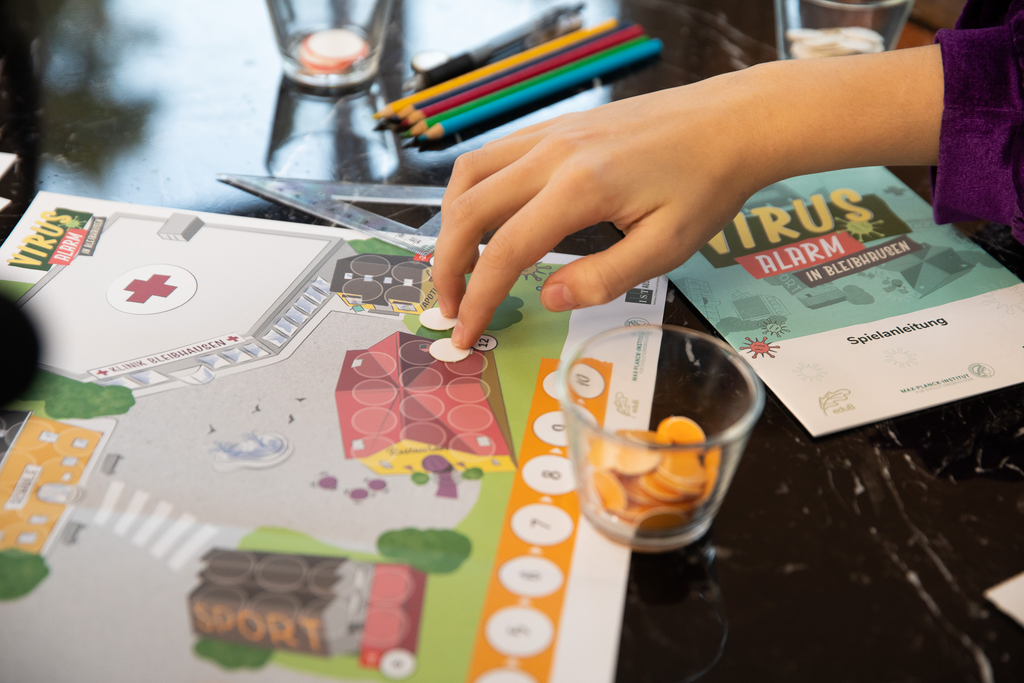 Photo credit: IST Austria/Anna Stöcher
The board game
Virusalarm in Bleibhausen
allows to observe the spread of a virus on the board in a time-lapse manner, making more tangible for children what is happening in the current pandemic and why we have to act. Moreover, it fosters discussions with classmates, teachers, and parents such that children may feel less alone and overwhelmed by the situation. It was developed by an international team of researchers, teachers, and science communicators led by Magdalena Steinrück (IST Austria) with funding from the Robert Bosch foundation.
The game is available in German and in English (for download only).
Website on the Coronavirus Pandemic
In 2020, the Department of Evolutionary Theory created a website with information on the pandemic to which the entire group contributed substantially.
Correspondence seminar on Selected Topics in Evolutionary Biology (STEB)
STEB is a correspondence seminar for school students organised by the non-profit organisation eduB in collaboration with IST Austria under the lead of Barbora Trubenov&aacute (ETH Zurich). In five series per year, school students get introduced to various topics in evolutionary biology. They obtain an article on the topic, complemented by a set of multiple choice questions, and perform a small project. They sent their answers and project results to the organisers and receive feedback. Our contributions are listed at the bottom of the Publications page.

Originally offered to students in Slovakia, there is now also an international version.
Max Planck Day 2018
For the Max Planck Day, many researchers from the MPI for Evolutionary Biology visited schools in Schleswig-Holstein to tell school students about their research. The slides for our contribution can be found here (in German).
European Researchers' Nights
Members of our group regularly participate in the activities offered by the MPI for Evolutionary Biology at the European Researchers' Night.
Rent a scientist 2020 & 2021
As for the Max Planck Day, many researchers from the MPI for Evolutionary Biology visited schools in Schleswig-Holstein. Christin and Mario gave an introduction to evolutionary rescue, combining analytical approximations, computer simulations, and simulations that the students did 'by hand'.